Residences at Brigade Orchards
Discover a haven of happiness and luxury at Brigade Orchards, a collection of boutique residential flats in Devanahalli. Escape the exhaustion of daily life and find solace in this exquisite location that exudes a captivating charm and evokes the lost glory of Bengaluru - the garden city.
Spanning across an expansive area of 135 acres, this property serves as a reminiscent tribute to the serene and verdant Bengaluru that once captivated the imagination Hyder Ali.
This award-winning integrated smart township stands as a self-sufficient ecosystem. It boasts close proximity to schools, colleges, office spaces, clubhouses and the like, catering to the diverse needs of city dwellers. Among these, the crowning jewel is The Signature Resort and Bar located within the integrated township.
Brigade Orchards gated community plots in Devanahalli offer more than just luxurious amenities. They provide convenient living by ensuring excellent connectivity with the airport, reachable within 20 minutes. Additionally, prominent employment hubs like KIADB can be reached in approximately 15 minutes, facilitating effortless daily commutes for residents.
This real estate venture encompasses a variety of apartments, each designed to cater to different lifestyles. Let's delve into the enticing options available.
Ivory at Brigade Orchards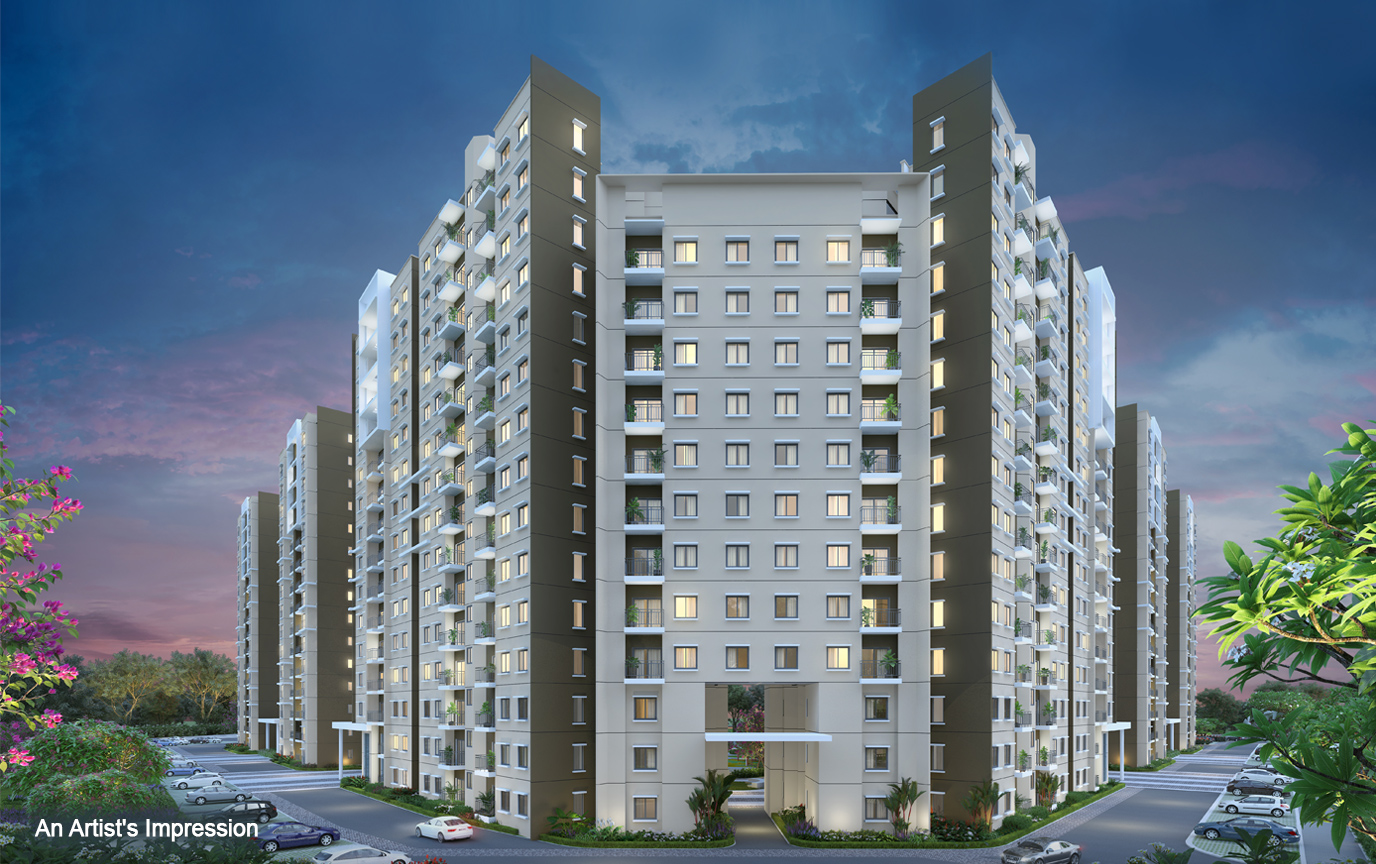 Choose
Ivory at Brigade Orchards
to indulge in living experiences of endless possibilities and unparalleled convenience. Step into a living space that effortlessly transforms into a paradise of efficiency, comfort, and brilliance.
Amenities
Experience a lifestyle that truly reflects your aspirations. Enjoy the convenience of smart home gadgets like Amazon Echo, smart switches for electric appliances, energy-efficient bathrooms, and gas leak detectors in the kitchen.

Unmatched leisure and entertainment await. Make most of the facilities such as a sports complex for indoor and outdoor activities, a serene mini forest, a spacious party lawn, an impressive amphitheatre, and more.
USPs
Every square foot exudes luxury and comfort. The apartment offers a unique blend of features that facilitate a contemporary and relaxed lifestyle, such as -
Tech-enabled homes amidst lush greenery
Short commute to leading educational institutions
A quick drive away from manufacturing, IT, biotech, pharma and aerospace enterprises
Proximity to the airport
Goldspire at Brigade Orchards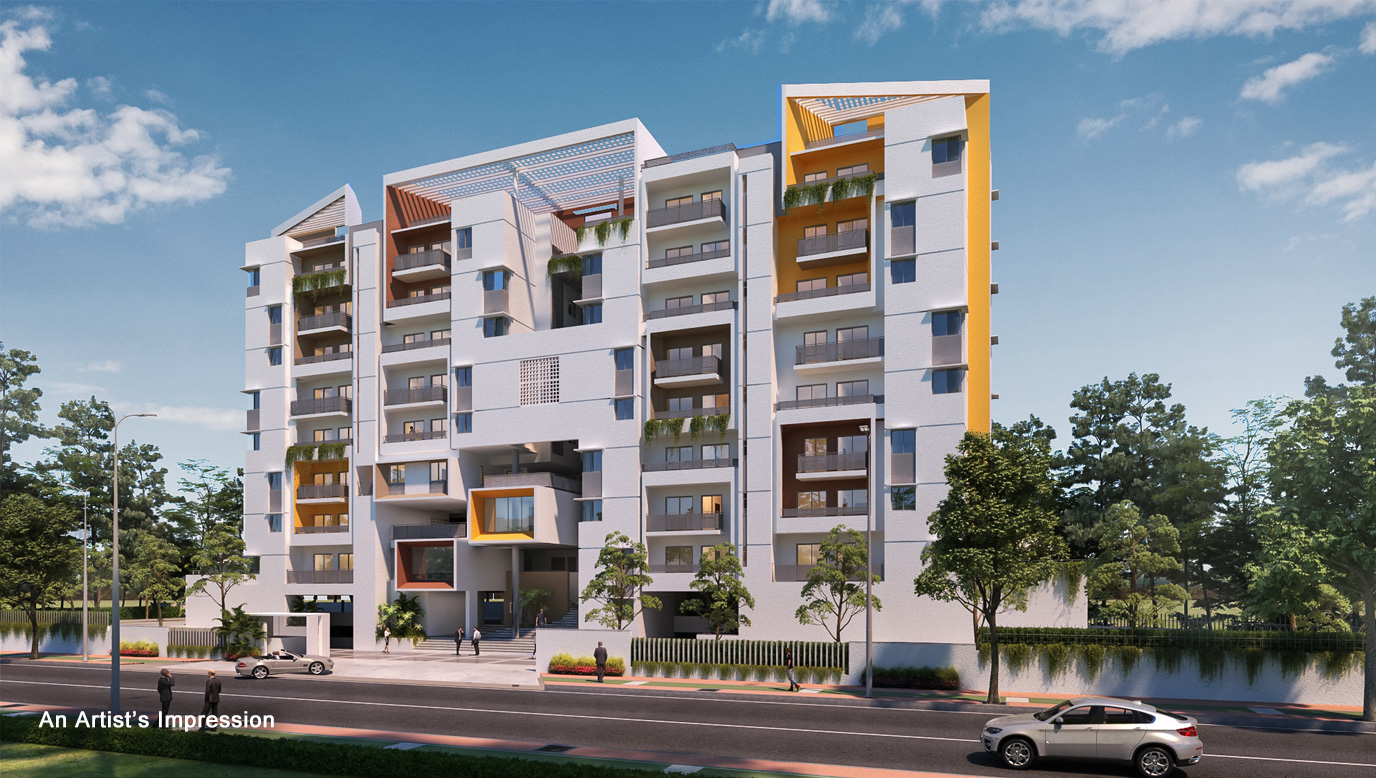 Promising a gold standard in living experience.
Goldspire at Brigade Orchards
is a boutique condominium complex that lives up to its name. Each of the 60 homes is characterised by ultra-spacious rooms with a decor that strikes the right balance of opulence and quaint, homely charm.
Amenities
The wide range of amenities makes for a highly active and convenient lifestyle at the upscale residential enclave. It includes energy-efficient bathrooms, a gas leak detector in the kitchen, water metering systems, a multipurpose party area, a library, barbeque area on the terrace, among others.
USPs
Live in a home of distinction and style — something that becomes the highlight of your life.
A standalone tower offers a stellar view of the open green acres
The apartments are situated near the Brigade Orchard's entrance.
Mr Sanjay Mohe, one of India's leading architects, designed it.
Juniper Block at Brigade Orchards
Are you searching for a destination for quality and active living? Then look no further.
Juniper Block at Brigade Orchards
offers a luxury apartment series that is designed to fulfill all your lifestyle goals while giving you a sense of belonging and comfort every day. The residential enclave features 493 flats with 2 and 3 BHKs and penthouses.
Amenities
Living in Brigade Juniper means you will not miss a beat in your busy life. The apartment enclave has a vast range of amenities that lets you fulfill all your daily goals — fitness, entertainment, leisure activities, and many more.
USPs
Juniper Block at Brigade Orchards is a marvelous blend of things that lets you live the downtown life while inspiring a community way of living. The upscale life with ample scopes of igniting bonhomie with your neighbours is its USP.
14-storey real estate enclave
It takes not more than 50 minutes to reach Nandi Hills, a top weekend destination in Bengaluru.
Brigade Orchards Signature Villas
Witness urban charm and experience deluxe living under the green canopy of nature. Here's introducing to you the
Signature Villas at Brigade Orchards
. Chrysanthemum, Carnation and Tulip are a series of 4-bedroom villas that recreate the vintage Bengalurean charm of large bungalows nestled amidst greenery.
Amenities
The villas are equipped with everything you need to enjoy life in a green paradise. Amenities include housekeeping, medical assistance, travel desk support, event and catering services and many more.
USPs
The unique features of Brigade Signature Villas uplift your living experience and help you make memories that last a lifetime.
The Carnation Villa gracefully embraces a central tree, encircling it with a courtyard nestled between its wings. The flat roofs add a modern look to the entire structure.
Nestled under the shadow of a tree, the Tulip Villa reflects sleek and contemporary aesthetics enhanced by its clean lines and linear layout. The entire look exudes an unmistakable sense of modernity.
The Chrysanthemum Villa is built around a tree at its centre. It features a courtyard between its two wings. The building has slanted roofs, lending a charming, timeless appeal that takes you back to a different time.
Parkside Homes at Brigade Orchards
Have you reached the second innings of your life? You must make it big, consequential and an example for the rest.
Parkside Homes at Brigade Orchards
has covered all relaxed and recreational living aspects. A lot of thought has gone into designing the residential enclave to help you make the best memories as you enter the new phase of life.
Amenities
Brigade parkside homes for seniors have many amenities so that you can enjoy your golden years to the fullest! It includes ergonomic seating areas placed at frequent intervals, emergency assistance call buttons at homes, TV rooms, walking trails, a library, a wide range of indoor games, and many more.
USPs
Parkside homes provide the ideal setting for independence and comfort, which is its USP.
Brigade Group is partnered with Age Ventures, a group of geriatric care experts.
Every nook and corner of the buildings has provisions for wheelchair and walking aid users.
Utility spaces like kitchens are designed with anti-skid floors and accessible maneuvering areas.
Rooms with all the necessary equipment to lend 24/7 medical care.
Luxury Apartments
Are you ready to indulge in the finer things in life and embark on a journey of comfort and sophistication? If yes,
Brigade Orchards' luxury apartment
series is just the perfect place for you to call home. Juniper, Ivory, and Goldspire are the three premier housing blocks that let you enter a world where opulence meets convenience.
Amenities
Every aspect of the luxury real estate enclave is designed to provide an elevated experience, from the lavish spaces and spectacular views to the unrivaled amenities and vibrant communities.
USPs
One of the major USPs of this apartment series is that it is based on the foundation of advanced technology. It reinforces the sturdiness of the building and adds to the aesthetics of the overall look and feel of your home.
A cutting-edge pre-cast technology guarantees swifter construction, superior quality, impeccable finishes, and flawlessly aligned walls.
Brigade Value Plus Apartments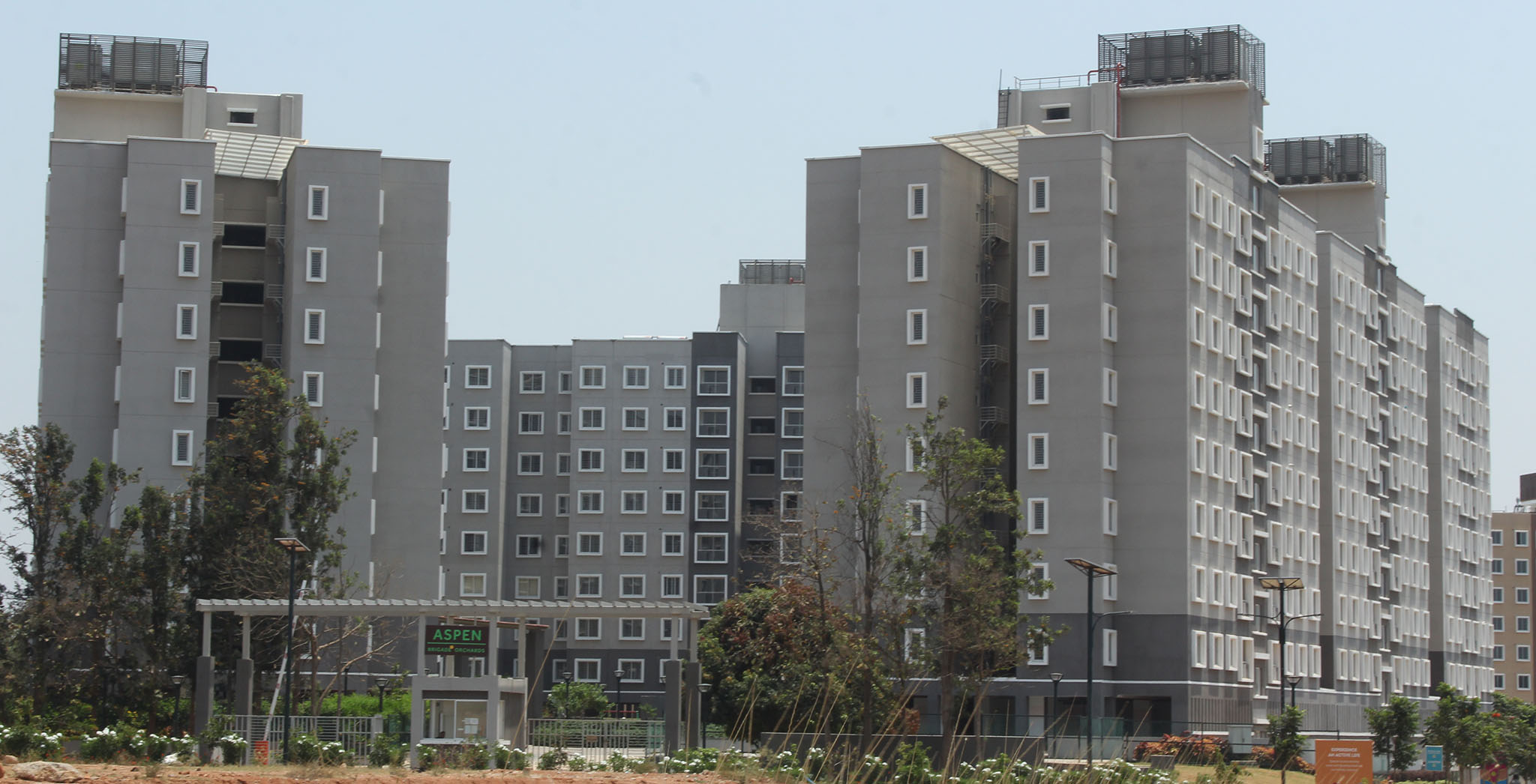 Luxury living is no longer exclusive to the wealthy elite.
Brigade Orchards Value Plus Apartments
lets you experience a high-end lifestyle without breaking the bank. Aspen, Cedar, Deodar, and Banyan are the four value-plus residential blocks at par with international building quality standards. The blocks provide 2 and 3-BHK apartments that lift your living experience to several notches.
Amenities
Brigade Value Plus apartments boast some of the top-notch amenities in the area. From our state-of-the-art fitness centre, swimming pool, and children's play area to a multi-purpose hall, amphitheater and the Signature Club) , you can be sure that you have found an ideal home.
USPs
Craftsmanship and attention to detail are some USPs that make these premier flats an abode of luxury and comfort.
Visionary international architects meticulously crafted the residential enclave.
Ingenious design concepts offer an expansive living environment in each apartment.
The buildings have been expertly constructed using specially imported pre-cast technology, ensuring exceptional quality and long-lasting durability.
FAQs
What is Brigade Orchards?
Brigade Orchards is a sprawling 135-acre Integrated Smart Township recognised and awarded for excellence.
What type of residential apartments are there in Brigade Orchards?
Brigade Orchards is a premier Devanahalli real estate venture that has the following types of residential apartments:
Smart apartments
Luxury apartments
Value Plus apartments
Apartments for senior living
What are the amenities provided at Brigade Orchards?
Within the township, residents can enjoy a wide range of amenities, including a distinguished Signature Club resort, a forthcoming medical centre), recreational facilities, a school, office spaces and retail options, among other utilities. These thoughtfully provided amenities foster a sense of social interaction and community engagement, promoting a vibrant and interconnected way of life for all residents.
What is the price for ivory at the Brigade Orchards project?
Ivory smart flats in Devanahalli are on sale at a starting price of INR 35 lakhs.
How many units are there in Brigade Orchards Signature Villas?
Chrysanthemum, Tulip and Carnation are the three Brigade Signature villas in Devanahalli that have four units of bedrooms each.
What is the starting price of villas in Brigade Orchards?
A Brigade Orchards Signature Villa in Devanahalli starts at INR 4.56 crores.
Where is Brigade Orchards located?
Brigade Orchards is ideally positioned in Devanahalli, North Bengaluru. It takes no more than a 20 minutes drive to reach the International Airport and located conveniently within a 30-minute reach of both Hebbal and Budigere.
How can I get a brochure of Brigade Orchards?
You can fill out and submit this form to download the brochure of Brigade Orchards.
Why should you consider Brigade Orchards for Investment?
Brigade Orchards apartments in Devanahalli stand as an exceptional investment opportunity in the dynamic real estate market of the city. Its strategic location, thoughtful design, world-class amenities, emphasis on community living and the strong reputation of the developer make it an attractive choice for discerning investors. Whether you are looking for a residential property or gated community plots in Devanahalli, Brigade Orchards Township offers a promising future.