HOW DEVANAHALLI IS EMERGING AS A MAJOR COMMERCIAL HUB OF BENGALURU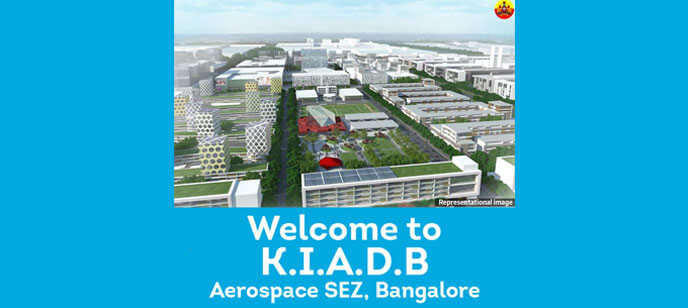 The development of an airport spurts growth in its adjoining areas. This is especially true in the case of Devanahalli, a former suburb in the northern part of Bengaluru. This area is seeing the massive transformation into a major industrial and residential hub, thanks to the Kempegowda International Airport. The picture was completely different about a decade ago with empty parcels of land dominating this area. One of the major developments here are the various SEZ projects by the Government, which are expected to create a great potential for employment opportunities in the future.
The aerospace SEZ in Devanahalli is fast emerging as a major aerospace manufacturing hub. Karnataka is home to almost two-thirds of the aerospace manufacturing in India as it is the only state in the country to have a separate aerospace policy. It comprises of a 1000-acre industrial park and is already providing employment to hundreds of people. This land has already been allotted to several companies, including
100 acres to HAL
. The SEZ comprises of export oriented industries and those that deal with maintenance, repair and overhaul related activities for the local market. Out of the 1,000 acres of land that has been allotted, about 250 acres have been earmarked for SEZ in the aerospace hub. This aerospace SEZ has been developed in collaboration with the
US Aerospace Supplier Development Mission
to India in order to introduce American companies to Indian joint venture groups, industry representatives, and Western original equipment manufacturers based here.
The success so far has also attracted a lot of investment and aerospace companies into the State of Karnataka. A few prominent names include:
Aerospace Common Finishing Facility (ACFF), which is a joint venture plant between the Karnataka Government and the Central Government.
ACFF will be set up at an estimated cost of
Rs. 96 crore
with a 50 per cent grant from the centre. This facility is equipped with heat treatment, plating, surface treatment and common testing facilities. Its primary aim is to benefit hundreds of small scale units in Bengaluru and adjoining areas. It will aim to lend a global quality helping hand to SMEs and their products.
Dynamatic's facility for helicopter components
Dynamatic Technologies Limited inaugurated its First Hangar of Dynamatic Aerotropolis at the KIADB Aerospace Park on 15th February 2017. Dynamatic Aerotropolis which spans across 27 acres, boasts of state-of-the-art facilities. Former Karnataka industries minister, Mr. R.V. Deshpande also stated that the Government has been able to attract component manufacturers from France, UK, and the US to Devanahalli Aerospace Park. Dynamatic's plant will manufacture the main cabin for Bell Helicopters. This SEZ already
has 2500 people employed
and generates Rs. 2000 crore in sales.
Centum Electronics
The facility of Centum Electronics is spread over six acres and has already seen an investment of about Rs. 200 crores over two years. It exports about 95% of its products. It currently employs about 750 people and aims at integrating design, manufacturing, factory testing, quality control and advanced manufacturing and engineering.

Apart from these three, the other companies that are operational in this aerospace park are BEML's unit, Bills Aerospace components, CIM Tools, Kinetix Solutions and ThyssenKrupp Aerospace. Clearly, a lot is happening in this side of the town.

Owing to these and much more such other developments, Devanahalli is expected to become a major commercial and office hub soon. One of the biggest projects – Information Technology enabled services & Biotechnology (ITIR) is all set to take shape by 2020, with a potential of providing employment to

1.2 million people

and indirect employment to 2.8 million. A global financial district with leading banks and a medical tourism hub is also around the corner.

All of this and much more makes it likely that the future of Bengaluru is in and around Devanahalli. A large number of residential projects have already come up in this area, with a range of options for anyone who wants to invest in property.

Brigade has visualized the emergence of Devanahalli as a major growth corridor in northern Bangalore. Brigade Orchards – a smart township project aims to provide a luxurious, green and pollution-free, self-sufficient environment to its residents, ensuring that all their needs are met within the neighbourhood itself and they need not travel far to reach their workplace either.Similarly,

Brigade Oasis

, ourplotted development in the Devanahalli is a 80-acre plot that features over 900 premium plots in North Bengaluru.

Discover the exceptional offerings from Brigade Group, including

Brigade Calista

for a vibrant downtown living experience and excellent connectivity, and

Brigade Valencia

, offering a relaxed yet spontaneous living experience.

#Devanahalli #North of Bangalore #Nandi Hills #Kempegowda International Airport #6-lane expressway #Aviation SEZ #Brigade Orchards #Smart Township #Signature Club Resort