WHY INVESTING IN A 'SMART TOWNSHIP' IS THE RIGHT DECISION?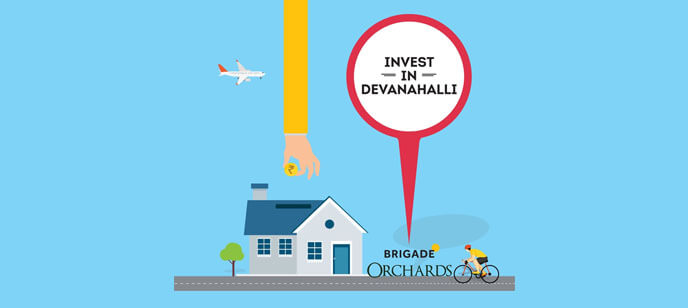 If you are looking to buy a home or just interested in the real estate sector, it is unlikely that you would have missed one of the most eye-catching trends in recent years i.e. the emergence of township projects. In general, a township (or an integrated enclave) refers to a largely self-sustaining community, containing residential, commercial and retail developments. Such a community is generally located along the outer fringes of a growing city, where they can benefit from lower rates and larger parcels of land available for development. For instance,
Brigade Oasis
, an 80-acre plotted development strategically located in Devanahalli, has vast landscapes and sustainable, eco-friendly living spaces.
Developers, corporates and home buyers alike have been drawn to such projects in large numbers. With the growth of this trend, customer expectations have increased accordingly, with smart townships being the new trend in town. We look at what makes a 'township' so sought-after and why exactly a 'smart township' appeals to a home buyer.
Availability of residential options across age and income groups
A township, by its very nature, is like a mini-city, hence offering a wide variety of living options, catering to different tastes and budgets. Want an affordable home with a like-minded community of neighbours? You can opt for a 1 or 2 BHK apartment. Are you looking for a luxury home with generous and open layouts? Consider opting for a premium 3 or 4 BHK apartment at
Brigade Sanctuary
, an upcoming residential project by Brigade Group. Desire more privacy, comfort, and mobility in your home, a home office, a gym or even a media room? You can opt for a luxury villa. In short, the township provides you just the sort of dream home you desire, along with the advantages of living in a diverse community.
Better infrastructural facilities and superior maintenance
When one moves into a new home, unpacking one's luggage and getting them organized is not the only thing one needs to attend to. A major worry could be, getting an internet connection, reliable source of water supply, security or even assurance of uninterrupted power. In a township, all these worries are irrelevant as these have already been taken care of. In general, all homes here are provided with almost every little detail that is essential for a comfortable life.

Whether it is the common area lighting in the evenings, waste segregation and disposal, maintenance of common areas and community centers, all these are taken care of, at a township. Hence residents, are free to enjoy time with their loved ones in a comfortable setting.
Walk to school and walk to work

Arguably, the biggest benefit of living in an integrated township is that it is self-contained - offices, bank ATMs, shopping centers and sometimes even a clinic/hospital. Every little amenity is often available within the township itself. If one's office is also within the same township, the advantages to a person are enormous. Imagine getting to walk home for lunch every day!

The benefits of a township are manifold if it offers education facilities for your children. No need to worry about dropping them or arranging for a school bus, you can just walk them to their school and back! In a city such as Bangalore, which is known for its traffic problems, living in a township frees you of any traffic-related worries and allows you much needed free time.
A safer environment
A township also offers a safe living environment. Large open spaces, gardens and parks allow one to walk/jog/exercise, without any worry about moving vehicles and pollution. Townships also provide advanced security facilities such as CCTVs, trained guards, identification of vehicles etc., to ensure residents and their environments are safe and secure.
Self-sustaining and environmental friendly
Sustainability and eco-friendliness are the buzzwords today and if it's something you strongly care about; a township is an ideal solution. As per the township policy adopted by most State Governments, townships are responsible for using their own resources for activities such as garbage disposal, composting, sewage treatment, water treatment within their boundaries. Not only have modern townships adopted all these means, many new ones have taken it forward with steps such as energy conservation and public transportation initiatives for residents.
Better return on investment

For an investor, investing in an apartment / villa in a township offers much greater returns than doing so in a standalone project. A major reason for this is that both the residential and commercial complexes in a township create demand for each other, which tends to push-up property prices in the long-term. In addition, with the top-class facilities and quality of life offered at a township, along with the benefit of living and working nearby, living here could be a blessing in disguise.
Smart Townships - Smart cities of the future
One of the stated aims of the government of India is to develop smart cities, which are self-sustaining cities, powered by a technology backbone, to house the knowledge workers of tomorrow. However, it is in the new smart townships, where this vision meets execution. Smart townships offer not just all the comfort, convenience and safety of a normal township, but numerous other facilities to ensure residents need not step out for anything.

The 'smartness' in such townships begins with residents' homes that boast of advanced home automation systems, video door phones for security and Wi-Fi / Fiber-to-the-Home (FTTH) broadband connectivity. Even while on the move - with public Wi-Fi zones, residents are connected to the world and don't miss anything important. The common areas in such complexes are planned in such a way, to ensure effective use of shared amenities among residents. Whether the provision of solar panels to power amenities, usage of bicycles, shuttle services for nearby transportation, rainwater harvesting systems to conserve water or providing a Smart Card to residents to have quick access to services, these townships truly represent the future of urban living.

Looking at the benefits a Smart Township offers, one can conclude that not only are they here to stay, they represent the way ahead for a comfortable, yet sustainable lifestyle, addressing the needs of the country's progressive populace. Brigade believes in staying ahead of the times. Its 130-acre integrated development, Brigade Orchards in Devanahalli, near the Bangalore International Airport, is a milestone in this direction. Offering a host of smart technology-based, eco-friendly and well-planned and thought-out facilities, it is ideally suited for those who always want to 'stay ahead' and enjoy an 'on the move' lifestyle.

Discover the exceptional offerings from Brigade Group, including

Brigade Calista

for a vibrant downtown living experience and excellent connectivity, and

Brigade Valencia

, offering a relaxed yet spontaneous living experience.

#Devanahalli #North of Bangalore #Smart Township #Integrated Enclave #Security #Investment #Walk to work #Walk to school #Sustainable #Villas, apartments and senior living #Comfortable living #Brigade Orchards #Eco-friendly #Community